Joseph Pilates presents his method as the art of controlled movements, Contrology, which should look and feel like a workout (not a therapy) when properly manifested. If practiced with consistency, Pilates improves flexibility, builds strength and develops control and endurance in the entire body. It puts emphasis on alignment, breathing, developing a strong core, and improving coordination and balance.
The core, consisting of the muscles of the abdomen, low back, and hips, is often called the "powerhouse" and is thought to be the key to a person's stability. Pilates' system allows for different exercises to be modified in range of difficulty from beginner to advanced or to any other level, and also in terms of the instructor and practitioner's specific goals and/or limitations. Intensity can be increased over time as the body adapts itself to the exercises.
Pilates Gaia is a boutique Pilates Studio focused on connecting our clientele with the forces of mother earth through body awareness and movements. Increasing body-mind connection allowing clean, centered movement, while the physical exercises can relieve mental fatigue. In essence, the mind and body should not be in conflict, but should instead work in unity.
We offer small group and private sessions targeting your needs. In our smaller group classes, our Pilates professionals are trained to work with you hand in hand while allowing individual attention enhancing your skill level by design.
Founder:
Juan L. Pichardo
Nationally Certified Pilates Teacher (Formerly known as PMA®-CPT)

Polestar Pilates® Graduated
TRX® & Balanced Body MOTR® Trained
Pilathon Education Mentor
Reiki Master Teacher
ThetaHealing® Practitioner
Born and raised in Dominican Republic. Formally trained as a Dentist, Juan quickly discovered that his true passion stretches between being active and helping others find balance in their own lives through movements and The Universal Life Energy (REIKI).
In 2010, Juan endured his first Pilates class and grew fascinated and yet amazed on how much impact Pilates had on his daily life. In less than 10 classes he was feeling fit, centered and for the first time he felt his body and mind synchronized.
Juan believes in sharing positive life experiences with others, and to that end he decided to pursue his Pilates Certification at Polestar Physical Therapy and Pilates Center, Miami. Through an abundance of collective knowledge Juan developed his own technique and crafted a unique style that encompasses a bio-mechanical and scientific study of structure and function, hence the essence of Pilates Gaia.
Forever inspired by Joe Pilates words and wisdom: "NOT MIND OR BODY BUT MIND AND BODY!"
Teacher:
Silvia Ferrer
Nationally Certified Pilates Teacher (Formerly known as PMA®-CPT)

Pilathon Education Graduated
Pilates Suspension Method Trained
Reiki Level 1 Practitioner
ThetaHealing® Practitioner
Born and raised in "La Terra Del Sol Amada" Maracaibo – Venezuela, Silvia spent over 15 years living in different countries while cultivating an array of lifestyles and learning from their an habitants.
She has a background in Industrial Engineering and Operations Management, after working many years in the corporate world. Silvia who was bewitched by Pilates magic 10 years prior when she decided to take her first Pilates class in San Juan, Puerto Rico – decided to pursue her destiny in Miami by successfully completing the Comprehensive Pilates and Healthy Lifestyle Teacher Training program at Pilathon Education. Silvia is currently a PMA Certified Pilates Teacher that truly believes that through Pilates she can make people's lives better by strengthening their mind and body, while developing a deep connection with their spirit. Her classes are both challenging and fun – you will leave the studio feeling stronger, elongated and relaxed!
Teacher:
Andrea Vicaria
Pilathon Education Graduated
Born and raised in Colombia, with a background in Finance and International Relationships, Andrea eventually discovered that her true passion stretched far beyond her acquisitions on the corporate floor. It was when she awarded herself the ability to help others with physical limitations through conscious movements is when she felt she earned her biggest reward.
Back in 2012, she participated in her first Pilate's class and grew fascinated on how much of an impact Pilates had on her daily life by helping her correct years of incorrect posture. Her daily routine at the office requires over 9 hours of sitting in a corporate setting and not to mention constantly traveling for the company, and yet Andrea felt the difference in her body, mental health and posture in less than 10 classes of Pilates.
In 2017 Andrea started her pursuit on becoming a Pilate's instructor and by 2018 she completed a Comprehensive Pilates and Healthy Lifestyle Teacher Training at Pilathon Education in Miami. After her participation in a seminar of Low Pressure fitness/ Hypopressive ABS workshop on osteoporosis -BUFFBONES with Rebeca Rotstein, she's pursuing a National Pilates Certification Program.
"What I love most about Pilates is that anybody can do it, young people, the elderly, expecting mothers and even those who are overcoming the post-surgical limitations. In my opinion, Pilates is designed for anyone who wants to be healthy and challenge their body in a new, fun, and safe way."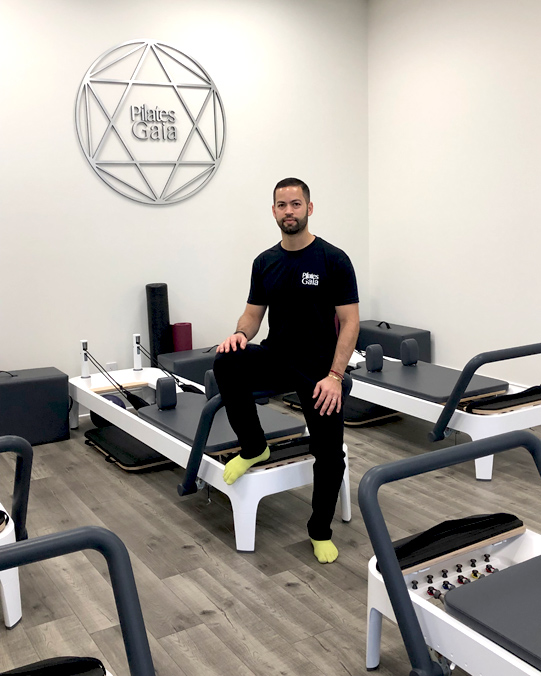 Pilates Gaia Monthly Membership $250
Ask for Our Monthly Options
*Some restrictions may apply

Virtual Groups
Live Streaming Classes

Virtual Private Classes
*Contact us for special pricing.

Duets
*Per Person Per Session
Promotions
New to Pilates?  We've got you!
*New clients only on your first purchase; limited to one per person.
2 Privates and 3 Group Sessions

It is a healing technique based on the principle that the therapist can channel energy into the patient by means of touch, to activate the natural healing processes of the patient's body and restore physical and emotional well-being
How does Reiki work?
The spiritual healing art of Reiki works by channeling positive energy into your body, with Reiki practitioners typically placing their hands on the affected areas of the body that need a boost, offering this energy and your body takes in the energy where most needed.
Sessions range from 60 to 90 minutes.
Single sessions start @ $65
It is a meditation technique and spiritual philosophy – not specific to one religion but accepting them all – with the purpose of getting closer to the Creator. It is a training method for your mind, body and spirit that allows you to clear limiting beliefs and live life with positive thoughts, developing virtues in all that we do. Through meditation and prayer, the ThetaHealing technique creates a positive lifestyle.
How does ThetaHealing work?
ThetaHealing technique is designed to change the subconscious mind while in a meditation state. It can also be used to address any physical/health conditions, mindset, abundance, manifesting, money and relationships: basically any area of your life where you are not experiencing what you desire.
Sessions are 60 minutes.
Single sessions start @ $150
Policies
-All sessions need to be prepaid.
-Services such as single session, private and group packages, memberships, workshops and any retail products we sell are non-refundable once purchased. This policy includes partial refunds for any unused class packages, or uncompleted workshop.
-Socks with grips are required for all classes, for your safety and hygiene. If you don't bring your socks with grips to your class, you will need to purchase a pair from us. No Exceptions.
-If you are running over 5 minutes late, your spot will be given to standby clients.
-If you are over 10 minutes from schedule time, we reserved the right not to let you in the class.
-Classes may be cancel if all participants are not present over 15 minutes after scheduled time.
General Terms & Conditions
-Classes are 50 minutes long. Please be on time to be properly warmed up.
-To guarantee participation in the group class, it is required to reserve a spot. Please log in into your Mindbody account or contact us at info@pilatesgaia.com
-If you are new to our studio, please arrive at least 10 minutes prior to your schedule class that way we can get to know you before before the session begins.
-We highly recommend if you are new to Pilates that you receive a proper introduction to the method with a private session before joining a group class.
-The studio will be open before and after scheduled classes. If you are planning to visit the studio out of regular scheduled hours please contact us before coming in, we would love to be here when you arrive.
Cancellations
Please be sure to cancel online, email or leave us a message.
Group Class
Client needs to cancel at least 12-hour prior to the scheduled class or a cancellation fee of $20 will be charged
Private Class
Client needs at least 24-hour prior to scheduled session to cancel or a full session will be charged.
Monthly Membership
-Memberships are non-refundable.
-Credit card information most be stored on our system.
-Client needs at least 12-hour prior to schedule class to cancel or a fee of $20 will be charged.
-One class per day limit.
PILATES GAIA
210 Valencia Ave. Suite #100
Coral Gables, FL. 33134